UAE cyclists to take on 2nd edition of "The First Group 7 Emirates Cycle Challenge" in support of Dubai Cares and Rashid Center for People of Determination
DUBAI, UAE – 08 November 2022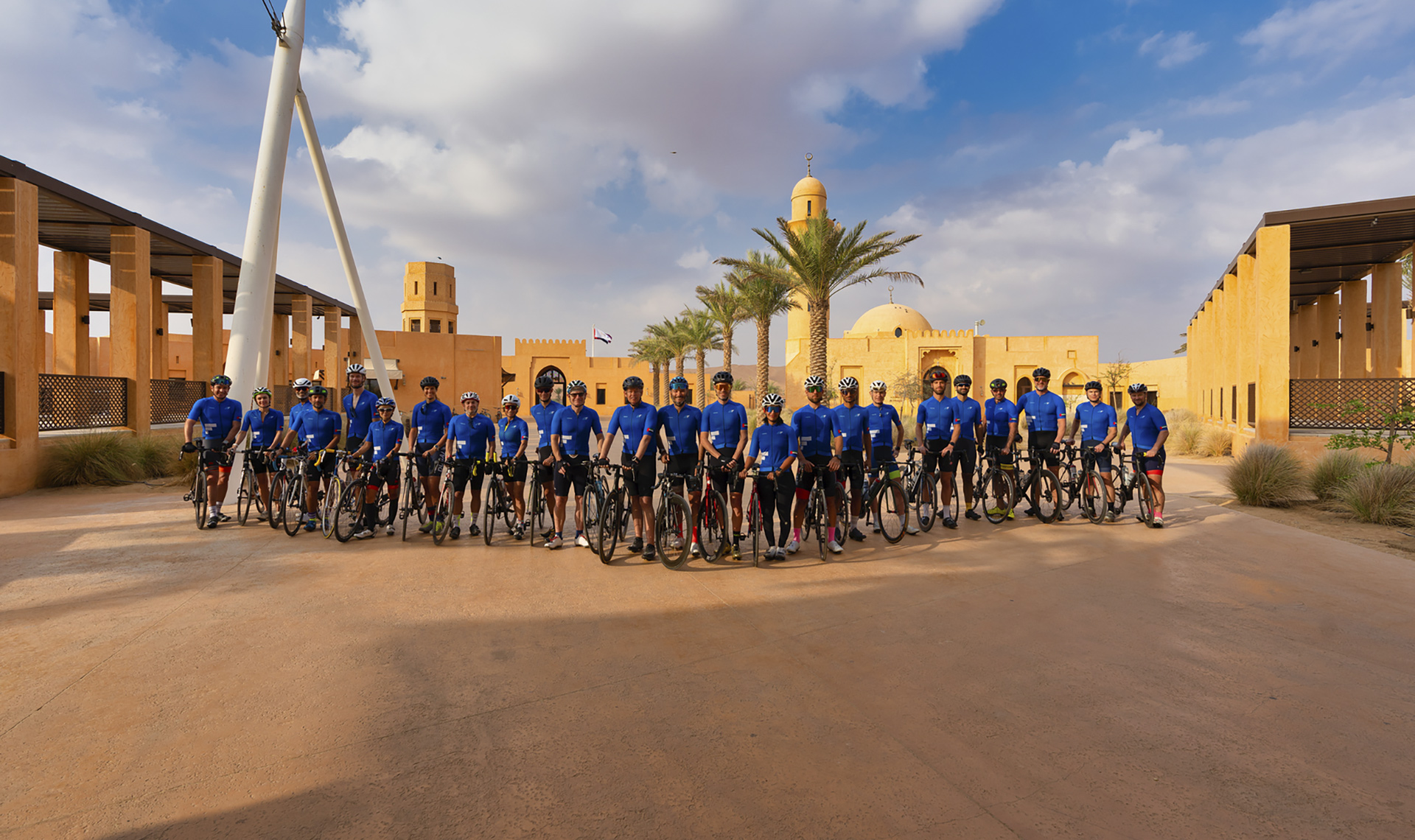 The First Group 7 Emirates Cycle Challenge returns this year with 20 UAE cyclists signed up to ride 550kms over four days from 10 – 13 November 2022, to raise awareness and funds for child welfare and educational support programs in partnership with Dubai Cares, part of Mohammed Bin Rashid Al Maktoum Global Initiatives (MBRGI) and the Rashid Center for People of Determination.
The Cycle Challenge is part of The First Group's flagship 'Enriching Young Lives' programme to improve the lives of underprivileged children and young people around the world by providing access to world-class early educational and emotional support and opportunities that they would otherwise be denied. The Cycle Challenge was launched in December 2021 to celebrate the UAE's Golden Jubilee and raise awareness and support for the Rashid Center for People of Determination, which provides children and young adults with a practical learning environment and vocational training.
This year, the initiative will continue to support the center, along with raising awareness and funds for Dubai Cares' Early Childhood Development programmes globally, which provide children with access to quality education and learning opportunities that will offer them equal opportunities in life.
The ride will be taken by C-suite executives and entrepreneurs from across the UAE, who will be led by elite and pro cyclists Sánchez "Samu" Samuel, former Spanish professional road bicycle racer; Vitor Carvalho, retired pro-cyclist and former member of the UAE National Olympic Cycling Committee; Janez "Jani" Brajkovič, Slovenian racer who finished ninth in Tour de France in 2012 and more recently rode for Adria Mobil; and Nelson Oliveira, Portuguese professional road racing cyclist who currently rides for UCI WorldTeam Movistar Team.
Residents in the UAE are invited to follow the riders' progress on the official channels as they tour the emirates and support the cause with donations on www.tfg7emirateschallenge.com.
"Cycling is one of the fastest-growing sports in the UAE, which makes it an ideal way to raise awareness for Dubai Cares and the Rashid Center for People of Determination as part of our 'Enriching Young Lives' programme. The 7 Emirates Cycle Challenge aims to encourage people to give back to the community and stay fit while also showcasing the natural landscape of the country. After the successful launch of the challenge in 2021, we have decided to involve the public this year by giving them an opportunity to donate to the cause," said Rob Burns, CEO & Partner, The First Group.
H.E. Dr. Tariq Al Gurg, Chief Executive Officer and Vice-Chairman of Dubai Cares, said: "Early Childhood Development (ECD) is crucial to children's healthy growth and development and provides them with the best start in life. Unfortunately, many children around the world do not have access to the right ECD support and resources, putting them at a disadvantage with limited opportunities. We thank The First Group for organizing the second edition of the 7 Emirates Cycle Challenge, which provides the UAE community with a platform to support our ECD programs and contribute towards providing underprivileged children with the care and attention they need at a young age. We are also grateful to the participating cyclists and executives for their efforts in driving this initiative."
Mariam Othman, CEO, Rashid Center for People of Determination, said: "We are delighted to be partnering with The First Group again to organize this unique challenge that demonstrates the generosity of people in the UAE. Through this cycle challenge, we are sending a positive message of inclusivity and raising awareness about people of determination who, with our support, can achieve the best possible education and opportunities to progress in life and succeed."
The full list of participants in the challenge can be viewed here https://www.tfg7emirateschallenge.com/team/.